Culture
Smoking Weed For The First Time: The Do's, The Don't, And Everything In Between
Smoking weed for the first time is quite the experience. You will literally remember this moment for the rest of your life, so be prepared. Whether you're in your mom's basement or you're old AF, congratulations on taking the first step in your cannabis journey.
Smoking Weed — What's It Gonna Feel Like?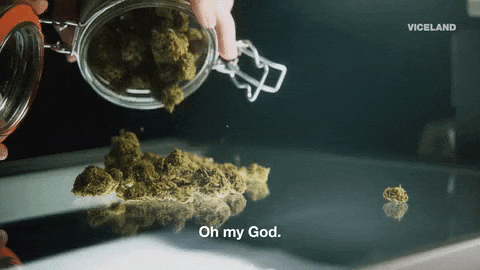 Relax, bruh. It's gonna be okay. For first time users the experience is going to be intense because this is the first time that your brain is interacting with the THC and CBD compounds that are released from cannabis.
THC is the component of marijuana that will give you a euphoric and pyschoactive mindset. Therefore ,THC is the what's going to make you high. So to avoid becoming paranoid or anxious, try a strain that is low in THC.
We recommend a couple of different strains that are perfect for the beginning smoker.
Try Maui Waui for the ultimate teenage experience. This strain is low enough in THC that it won't give you such pyschological effects, but you'll get a giggly, and happy buzz.
Maui Waui also offers a natural boost of energy that won't automatically make the first time user fall asleep. Try to accompany this strain with lots of snacks or activities to make your buzz amazing.
Another strain that has a low THC count that would be perfect for the virgin smoker is a strain called, Trident.
Trident is a low THC strain, which will prevent the baby smoker from being hit with too much of a cerebral. Also, the high CBD content of this strain will relax you like crazy making this the perfect night time stress relief.
Trident also gets rid of all types of pains or aches because of its 12 percent CBD content. The pungent pine aroma of this strain literally smells like the woods, which coincidentally might be where the first time smoker is smoking this strain.
How Much Should The First Time User Try?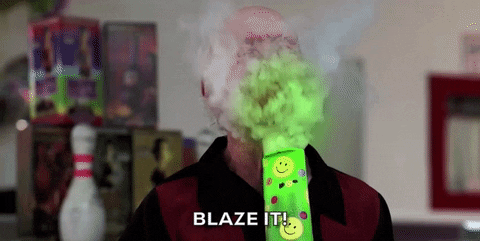 When it comes to smoking weed, the first time user should try one puff. I know that sounds lame, but within twenty minutes, the THC and CBD compounds will start triggering the receptors in the brain. If you want a more cerebral high, take another puff.
If you are the most adventurous of all and you are trying an edible as your first time, stick to 5 milligrams.
According to science, edibles give the user a stronger high because the THC passes through the liver and blood barrier more rapidly. Smoking weed actually bypasses the liver, and doesn't give off the same crazy psychedelic effect.
Also, edibles don't go into effect until a couple hours after ingesting, which could make someone take more than their body can handle.
With edibles, its best to stick to a low amount of THC, just for the first time. A good and sensible amount is around 5 milligrams. If you like what you get, try a little more next time, but try to find the perfect amount of high for you.
Smoking or eating an edible for the first time can be confusing, but the best advice is to take it slow and steady.
(Photo Credit: Elite Daily)